The "Tell us who you are" thread
04-09-2012, 10:33 PM
(This post was last modified: 08-02-2012 05:39 PM by Thalanor Thornhale.)
The "Tell us who you are" thread
We need an introduction thread of old times again. Post something about you here. I will do so in a bit myself.

My name is Anthony ak Thalanor Thornhale. I was playing GW when it was still in beta. Back in those days, I came across a guild named ARKANGELS [ARK]. Somehow I got invited to that guild and never really left that guild and played all roles within that guild from member to officer, to guild leader, and alliance president. Having worked along-side with many people I still know today was truly rewarding. But when things go well, it's best to leave, and so eventually, I took a leaf of absence from the game to focus more on schooling and life. School is now finished and life is ongoing :-)

With the imminent release GW2, I just enjoy being a GW2 fan, and playing my part as an active member in the alliance. I believe it's time to get the dust of our old explorer wear, and (re)build the community so that it's ready for GW2.

This website here is my contribution (together with Mace's) to provide the alliance leadership with a hopefully fun and functioning platform on which we can revive the community. Our community from Eternitylost has always been one that reached across the oceans and spanned multiple time-zones. May this site complement the Ventrilo home server that Xavier from [TYME] is hosting so that messages meant to reach other time zones do find their intended targets.

I look forward to playing with you all when GW2 comes out!
---
04-10-2012, 08:12 AM
ObieMVy
The Chosen


Posts: 662
Joined: Apr 2012
Reputation: 0
RE: The "Tell us who you are" thread
Hello Everyone,

I started playing GW about 8 months after it was released. I hadn't even heard of it before then... didn't really know what an MMO was either, because I hadn't done any PC gaming before then. I bought it not realizing that it was a game that is basically another world within your computer with friends to make from all over the world. About a year after starting to play GW, I joined SoV which is where I came to be a part of ARK's alliance.

I got rather addicted to GW and played wayyyy too much for about 2 and 1/2 years. After that I quit GW to focus more on my real life. 6 months ago I got a bit more reasonable job (regarding how many hours I am at work) and now I feel I have the time again to play a game again. Good timing considering GW2 is coming out! I probably won't be super hard core or anything, but I'm truely looking forward to playing GW2.

I'm mainly a PvE player. PvP interests me too, especially the World vs World type, but PvE will probably always be what I love the most. I love the story and lore for Guild Wars :-) I can't wait to start a new story in GW2.

-Obie (Mark)
04-10-2012, 10:11 AM
dorkwarrior
Shorek Rewordiar


Posts: 209
Joined: Apr 2012
Reputation: 1
RE: The "Tell us who you are" thread
Hi!

I started GW shortly after release. Arkangels was the first and only guild i've been a part of. I have fond memories playing in the alliance with Erasmus (Anthony) at the helm, and am looking forward to making new memories and new friends.

3....2....1....SPIKE

-Dave
04-10-2012, 10:23 AM
(This post was last modified: 04-10-2012 10:23 AM by Allanon.)
Allanon
Maguuma Explorer


Posts: 160
Joined: Apr 2012
Reputation: 0
RE: The "Tell us who you are" thread
Hey all,

I started playing the original Guild Wars in July of the year it launched (July 28th, the bday of my first char and my main). I've been in many guilds over the years, though I've been part of the ARK alliance for a while (I've even finally joined them, lol). While I love the game, I do have the bad habit of getting side tracked by things, which is why I've only beaten Prophecies (though I'm at or near the ends of the other 3 campaigns).

With GW2 getting ready to launch, I figure it's about time that I delve back in so I can get up to rank 30 in my HoM. That and I've just been starting to get a slight itch to jump back into the world of Tyria and see all of you guys again.

Hope to see you guys online,

Allanon (Jon)
04-10-2012, 02:34 PM
amidwx
Ascalon Settler


Posts: 38
Joined: Apr 2012
Reputation: 0
RE: The "Tell us who you are" thread
I used to go by Awitelin, and I was once briefly shared the leadery-type-person job in ARK. It was the first guild I'd ever joined in any game, and after I left GW1 behind, I founded a roleplay guild in another game and have been leading that guild ever since. Guess it's been four years or so. I'm actually running
the GW2 roleplay community right now
(500 members and counting, yikes!).
I was very glad to see Thorn's email - I've thought about you guys every now and again and have always wondered how you're doing! Very interested in seeing who all returns.
---
My guilds and communities:


Firstwatch Irregular Company [FIC]
Guild Wars 2 Roleplayers (2RP)
04-10-2012, 04:47 PM
MeatTarget
Ascalon Soldier


Posts: 8
Joined: Apr 2012
Reputation: 0
RE: The "Tell us who you are" thread
O.O whats going on here?!
Doubt anyone remembers me.
It's been sooo long since I've posted on the EternityLost site, then I got an email today...like some kind of calling...a voice from on high, beconing to me! Come and See! lol
Was in [ARK] a good many years ago, for a good amount of time, served as an officer at one point toward the end of my GW1 times. Afterward I moved to Lineage 2 (thinking it would be a temp break from GW1) it became a new home. I often times remembered the simpler times of [ARK] and GW in general, compared to the more PvP centric/politic type of game that L2 was. Now I see GW2 is coming, not sure yet if I will play another MMO. It is addictive but soo much investment of time.
Anyway...I see Revel is still spamming threads!
Some of the names look familiar. Hope you all have fun, maybe I'll see you.
-Ben a/k/a MeatTarget(Monk)/DergeDraconis(Necro)
Old Pic from a FoW run I found, on one of my many toons;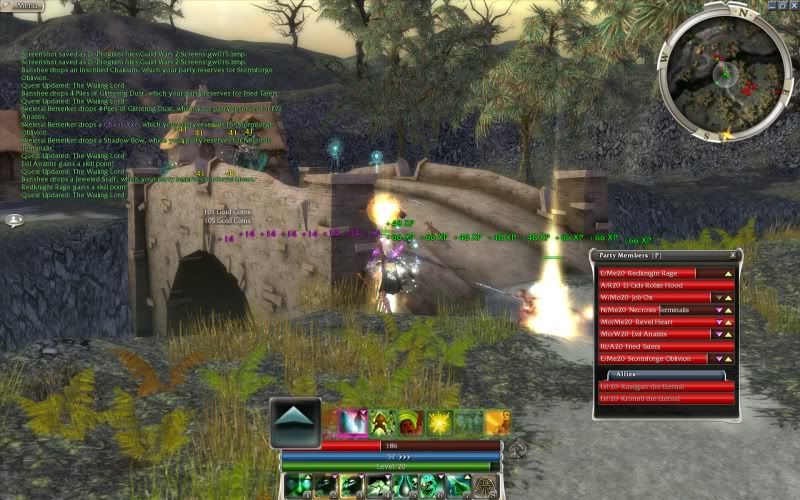 04-10-2012, 06:03 PM
Mace
Administrator


Posts: 377
Joined: Apr 2012
Reputation: 1
RE: The "Tell us who you are" thread
Actually. I think I do remember you.
04-10-2012, 10:00 PM
RE: The "Tell us who you are" thread
Whoa, whoa, so many familiar names! I am so happy that you all followed the call! Dork Warrior, Meat Target, Allanon, Awitelyn, of course I remember you all :-) And MeatTarget, that picture has a lot of names of people I am hoping will come back (apart from Revel...who is already here).

Awitelyn, tell me more about your community! I am intrigued!
---
04-11-2012, 07:23 AM
(This post was last modified: 04-11-2012 07:23 AM by amidwx.)
amidwx
Ascalon Settler


Posts: 38
Joined: Apr 2012
Reputation: 0
RE: The "Tell us who you are" thread
(04-10-2012 10:00 PM)

Thalanor Thornhale Wrote: Awitelyn, tell me more about your community! I am intrigued!
Not sure where to start explaining it, but in the event you're not familiar with MMO roleplay: The basic gist is that we use the game world as a creative medium, and use the characters we create as if they are living, breathing inhabitants of that world, as opposed to just a avatar representation of ourselves. We give our characters personalities, a personal history explaining how they became an adventurer, and then work on collaborative stories to provide motivation for what they're doing. It's like a traditional RPG game set-up, only it's done with others, so the story and world doesn't revolve around you personally.
The best real-life analogy for MMO roleplay would be a group that does historical re-enactments or renaissance fairs. For the duration of the time they are doing their event, the people putting it on stay in-character as a soldier or a shopkeeper and live, talk, and think as if they are the individual they are pretending to be. MMO roleplay is very much the same - we stay in-character for much of the time we are logged into the game world and pretend to live, talk, and think as the character would.
It is an exceedingly dorky venture, I'll admit, but it's a form of creative exercise that can be quite challenging at times. I first got hooked on it in a game called Pirates of the Burning Sea that I picked up in January 2008 because it was just too darn fun to pretend to be a French pirate, and I've just never stopped playing MMOs that way ever since.
As for administrating a community of other roleplayers... well, it's an absolute beast of a project. As I said, it's got 500 members, all of them exceedingly excited about the game, so some days its like herding a bunch of kindergarteners that have eaten nothing but sugar through Disney World. Not only is it an impossible task to keep track of them all, there's going to be a tantrum or two along the way. It keeps me very, very busy outside of work. I'm actually looking forward to the game launching so I can have some peace and quiet.
That aside, though, I have a lot of fun doing it.
---
My guilds and communities:


Firstwatch Irregular Company [FIC]
Guild Wars 2 Roleplayers (2RP)
04-11-2012, 11:35 AM
RE: The "Tell us who you are" thread
Hi, I'm Alex, aka Silent Night Kills. I have been playing for almost 6 years to day. Off and on throughout now from the past couple years due to work and school and such. But i ran across a guild called The Angels and Shadows Project {ASP} and i was hooked. From running things with the guildy to the allaince. For thoses of you who remember Capulatio Daedalus. He is the one who got me involded with the guild and allaince. Now i am in {ELF} and i love it, so many nice people and nice time playing with everyone. Can't wait for the GW2 release and i can't wait to play it with all of you (:
User(s) browsing this thread: 1 Guest(s)